When it comes to GPS Collar For Hunting Dogs, it is easy to find them because there is an abundance on Amazon itself. If you have read the article GPS Collar For Hunting Dogs, you will notice that the GPS collars that we reviewed that article are specifically catered for hunting dogs, which are larger in size. What happens if you wish to go tracking with your small dog, and you wish to track their location? is there any GPS collars that suit small dogs? Luckily for you, there are indeed GPS tracking collar for small dogs which are available in the Amazon.
GPS Tracking Collar For Small Dogs
While we might have reviewed the GPS Tracking Collar For Yorkie, some of the GPS tracking collars might not be well suited for other small breed dogs, like the Chihuahua or other toy breeds. This is primarily because each dog breed might have its own needs. Having said that, there are indeed some general requirements that will suit all small dogs. For example, you will need a collar itself that can suit the dog's neck. You will also need to ensure that the static correction, if any, will not harm the dog at all.  Other than that, it will be optimal if you can judge your dog's speed, distance away from you, or even knowing the exact location of your dog. Some of these devices might require a subscription model to go along with it. We will list down the various GPS tracking collar for small dogs that we have reviewed.
Garmin Alpha 100/TT 15 Mini Bundle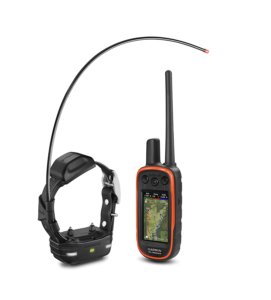 This Garmin Alpha 100/TT 15 Mini Bundle
 might be one of the most expensive GPS tracking collar for small dogs. But we figured that the price is fully justifiable, given its unique value proposition that it can provide to you and your dog.
First of all, as mentioned earlier, the GPS collar must be able to fit small dogs. The dog's neck circumference can be small, and hence not many GPS collars can fit onto these dogs. For the case of the Garmin, the TT 15 mini is able to fit on dog necks as small as 9.5″ in circumference. This is optimal for most dogs. Of course, other than the size, the weight of the collar is another major consideration. This collar weighs at just 7.5 oz., which is light enough for all small dogs to wear it without any ill effect. As per the usual collars, there are 2 different sets of probes that you can switch around, depending on your dog's coat thickness.
Other than the fitting of the GPS tracker on the small dog, you will need to look at its functionality. This best GPS tracker for small dogs is popular because of its high signal reliability as well as its high range. These two are important metrics that people might ignore. By having a high signal reliability, you are assured that your dog's location is always accurately pinpointed on the screen itself. There is a refresh rate of 2.5 seconds, which is more than adequate for you.
As for the tracking device, it does have a vibrant color screen that allows you to view various metrics. It can view the distance of your dog from you. It can also determine your dog's speed as well as its exact location. Now, how is it possible that the dog's location can be accurately determined? This is made possible by the TOPO U.S. 100K maps that are preloaded into the tracking device itself. 
All in all, if you have the money to spare, we will strongly recommend you to purchase this best tracking collar for small dogs.
Pros: Very reliable signal. Extremely light collar. Detailed report. High signal reliability. High range.
Cons: Can be expensive
Our Rating:
(5 / 5) Best Choice GPS Tracking Collar For Small Dogs
---
LINK AKC Smart Dog Collar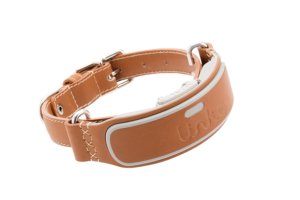 If you are looking for something that is sleek in design and is extremely good in aesthetics, you can perhaps get the LINK AKC Smart Dog Collar. This budget GPS tracking collar for small dogs will not burst your budget, which is another plus point for those who are concerned about budget.
The collar itself fits small dogs, ranging from neck sizes of 9.5 to 14 inches while weighing at just 4.8 ounces. This makes it extremely popular amongst owners of small dog breeds. In addition to that, the collar itself is aesthetically pleasing too.
As for its functionality, this GPS tracker for small dogs allows you to track your dog accurately via its GPS tracking system. As such, you do not need to worry about the range of this collar. You can even set up a safe zone for your dog to play in while you are busy. Should the dog run away or exceed the boundary of the safe zone, you will be alerted to it on your Smartphone. What if your dog decides to run away in the dark? Not to fret, as you can remotely on the LED light that is found on the collar itself. This makes it very easy for you to spot your dog via the light when it is dark. This feature is not commonly found in average GPS tracking collars that you can find on Amazon.
After the day's activity, you can also log into the system on your Smartphone to view your dog's activity for the day. This includes the path that your dog did as well as the ability to share your dog's activity with your friends!
If you intend to bring your dog out to walk when it is dark, or if you are on a tight budget, then perhaps this GPS tracking collar for small dogs will suit your needs.
Pros: For the budget conscious. Unlimited range. LED light for use in the dark.
Cons: Requires monthly subscription
Our Rating:
(4.9 / 5) Best Choice for night uses.
---
Find My Pet GPS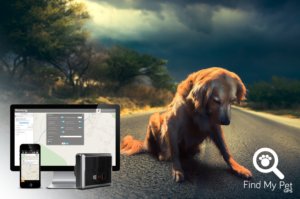 Another GPS tracking collar for small dogs for the budget conscious folks, the Find My Pet GPS does seem to be a tip-top GPS collar that can you can use to track down runaway dogs.
It uses a 2G network to locate your dog. This, of course, requires you to have a monthly subscription for the service, which is completely affordable for most regular folks. By using this service, you will be able to locate your dog no matter where it is, so long as they are within the signal coverage area.
This GPS tracking collar does not have additional functions. You can view your dog's location on any Smartphone that you have. All you need is to download the app from the relevant app store. You can set up an alert on your mobile phone whenever your dog leaves a predesignated safe zone. As for the collar itself, it weighs at just 3 ounces, hence suitable for even the smallest of dogs.
We will recommend you to purchase this GPS tracking collar for small dogs if you are intending to bring your dog around the area. Do note that this collar will not work when there is no signal coverage, hence not suitable to go for trekking in wooded areas.
Pros: For the budget conscious. Range is dependant on 2G signal coverage. Email and SMS alert.
Cons: Requires monthly subscription.
Our Rating:
(4.7 / 5)
---
GPS Tracker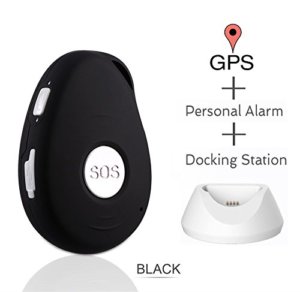 This GPS Tracker might not come from a big brand company, but it has indeed been a lifesaver for many occasions. This GPS tracker is actually;y developed for young children or for the elderly. However, you can also attach this to your regular dog collar, and it can also be used for your small dog.
It does have a unique design that rivals those from the bigger brands. It functions more or less like a tracking and monitoring device. You can go online and draw out a map to set the perimeter boundary that your dog is allowed to roam. Once the dog breaches the geofence, the system will send an alert to a predesignated mobile number. You can track your dog's location online too.
This system can even track falls, but this should not be applicable to dogs. We recommend you to charge the GPS tracker daily, as it is reported that the battery can last for at most a day at a single charge.
Pros: For the budget conscious. Range is dependant on 2G signal coverage. Email and SMS alert.
Cons: Requires monthly subscription.
Our Rating:
(4.6 / 5)
---
Whistle 3 GPS Pet Tracker & Activity Monitor
Whenever I talk about GPS tracking collar for dogs, the Whistle 3 GPS Pet Tracker & Activity Monitor
 constantly comes up during the forums or discussions. Whistle has indeed developed many ingenious devices that are truly innovative and game-changing. The Whistle 3 GPS Pet Track never fails to impress me. This item precedes the Whistle Activity Monitor For Dogs.
This system runs on both Wi-Fi and Cellular network in order to provide you with a complete peace of mind. When it is still connected via Wi-Fi at your house, there will be no alert to your mobile at all. This is because if the GPS Tracker for small dogs is still connected via Wi-Fi, it does mean that the dog is still located within the vicinity of your house and this should not be a cause for concern.
However, once the dog leaves the Wi-Fi coverage area, the cellular network will be utilized. When this happens, an alert will be sent to your email or your mobile, depending on the settings that you have chosen. For the cellular network, the AT&T network is chosen as it has the highest network coverage in America itself. You will require to pay a subscription service for this, at only $6.95/mo.
With this service, you are able to track your dog's daily activity too. Their exact location can be pinpointed on the app, which can be downloaded in the app stores. You can also track your dog's age, weight, and breed. This allows you to compare your dog's metrics as compared to dogs of a similar age or breed. Armed with this information, you can easily decide if your dog needs more exercise or should your dog cut down the intake of food. What is interesting, is that the system will follow your dog's location and creates a trip each time it leaves and return to one of the places that it has Wi-Fi connection with.
As for the collar, it weighs at just 1 ounce! It is the lightest of all GPS tracking collar for small dogs! On a single charge, it can last up to 7 days. This is by far the most popular GPS tracking collar which can indeed be used on dogs of any breed and size.
Pros: Long battery. Signal reliability is strong. Logs your dog's trips. Accurate location tracking.
Cons: Requires monthly subscription.
Our Rating:
(4.9 / 5) Most popular GPS tracking collar.
---
Loc8tor Pet Handheld Finder

This NEW Loc8tor Pet Handheld Finder is an award-winning pet locator that is more commonly used for finding cats. It does work for small dogs too, simply because its functions can rival the bigger brands. The GPS tracker weighs at just 5 grams too.
This is a handheld pocket finder for pets. It has a range of up to 400 feet. It works by sending a signal to the tracker from the handheld device. You can pre-set a boundary that acts like a geofence. If your dog breaches the boundary, you will be alerted, and therefore you will be able to apply the necessary actions to retrieve your dog.
Since its ultra-portable, you can easily bring this along with your hiking trips or camping trips (don't forget the Best Tent For Camping With Dogs and the Outdoor Dog Mat For Camping Or Travelling) too. If your dog decides to wander too far from you, you can locate the dog's direction by pressing the button on the device. The device will then direct you to walk towards the direction specified by them.
While it might not have a visual interface, or neither can it show you your dog's exact location, it is considered good for many owners of small dogs simply because it does not require a monthly upkeep. Also, since its so portable, it is easier for you to pack this into your bags too. All in all, we will recommend this to owners who are looking for something simple yet innovative.
Pros: Ultra light and portable. No need for external devices.
Cons: No data logged.
Our Rating:
(4.9 / 5)