In an earlier article, we did mention that it is common to incorporate Internet Of Things into devices that dogs uses too. In for example, we have active monitoring system for dogs, made by PetChatz. With such an innovation, it is little wonder that there are many devices that are connected to the Internet to make it simply for us to conduct routines for our dogs. One such device is the Petnet SmartFeeder. Let us give you the most extensive review of the Petnet SmartFeeder.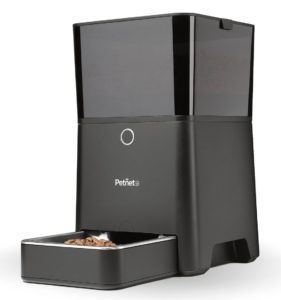 The Petnet SmartFeeder is the brainchild of 3 individuals in 2012. Recently, they managed to raise an investment of 4 million dollars to fuel their development of the innovative products in their company.
Their dedication towards reinventing how we feed and communicate with our pets is unquestionable. While the Petnet SmartFeeder is not the first Smart Feeder that was being built, it is the first Smart Feeder that allows you portion your pet's food, all by using your iPhone.
As a disclaimer, if you read reviews, stating that the Petnet SmartFeeder works using Android devices, they are lying. While the company have made plans to incorporate android devices to use this system, the Petnet SmartFeeder currently works only with iOS devices.
Moving forward, the Petnet SmatFeeder allows you to program your dog's feeding schedule remotely. As mentioned earlier, it too allows you to portion out the food too. In addition to that, one of its key features is that it allows you to dictate how fast your want each meal to be dispensed out. This actually helps to prevent bloat in your dogs.
You can fully customize the feeding schedule and portions of the food for your dog. The food tray can hold from 1/16 cups of dried kibble to 1 1/2 cups of dried kibble. Feel that your dog is way too fat? You can split the feeding into as much 4 times in a day!
The people behind the scene totally understands the pain that some pet owners have. Some pet owners do not know how much their dog should be eating, and hence most of the dogs end up being overweight. One of standout feature of the Petnet SmartFeeder is that the system is able to determine the right amount of food that your dog should be eating. It can then suggest the correct portioning to you. This guarantees that your dog will never be overweight if you follow closely to their suggestions.
The system too can detect when the kibble in the hopper is too low. It will then inform you through your iOS device, and you have the option of purchasing more kibbles directly through their App.
Features
The information below is a snapshot of the standout features of this Smart Feeder.
Remote Management: The Petnet SmartFeeder allows you to remotely manage your dog's feeding schedule no matter where you are, no matter what time it is.
Completely Customizable: You can customize your dog's feeding patterns to your liking. You can key in the dog's weight, age, activity level and the system will generate the dog's recommended feeding pattern for you too.
Two Way Communication: You can set your iOS enabled smartphone to receive push notifications. In for example, you can received information about the amount of kibble left in the system. You could also receive notification when it is time for your dog to have their meals.
Largest Database: The Petnet smartphone App have the largest database of healthy dog food.
How Does The Petnet SmartFeeder Works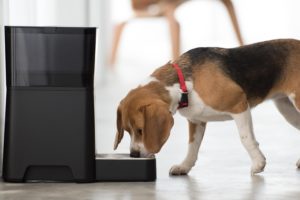 The entire Petnet SmartFeeder is very intuitive to use. First of all, you would want to input your dog's statistics into the system. With this information, the Petnet SmartFeeder can calculate your dog's exact needs. It will recommend some settings for you, which you can easily override.
You can then configure your SmartPhone to use the Smartfeeder by simply configuring the SmartFeeder itself. The SmartFeeder works on WiFi, so make sure your house have an active Internet connection.
Once activated, you can go about using the system. The ergonomically designed SmartFeeder uses senors to detect various parameters. One of them is if you dog has been eating the optimal amount of food. All the information is then fed back onto its own software. The internal software then uses the data to learn about your dog's feeding activity and other characteristics. It then uses the information to generate its own recommendations to you!
What's The Catch?
While obviously this Petnet SmartFeeder comes out tops in every department, there are surely some parts at which they can improve on. One of it is that it only allows iOS devices to use the system. The company is actually working towards allowing android based system to use this, so that is easily solved.
The other thing is that you can't pre-program multiple feeding days into the system. So if you are going to be away for more than 1 day, then perhaps you can consider some of the other Smart Feeders that we have reviewed.
The Verdict
If you are looking for a Smart Feeder, we strongly recommending this intuitive system. It allows you to portion your dog's meals, separate them into multiple meals throughout the day. It too learns your dog's feeding patterns and will make recommendations based on its huge database of healthy dog food!
Click here to purchase the Petnet SmartFeeder now.