Ever been so busy that you find it a chore just to rush back home just to feed your dog? Or you are chained by the fact that you will need to feed your dog regularly, and as such you miss out on your social life or even on your regular holiday trips? This resonated deeply with me. There are so many times that I need to cut short my plans just to return home and feed my dog. How I wish I could have a pet food timer dispenser to solve all my needs. And this is precisely why I have decided to write this post.
The Ultimate Pet Food timer Dispenser Review
My motivation for writing this post is really just to share some of my findings with you. This research took me quite some time to produce, and it is just a review of what I have chosen as the best pet food dispenser. Indeed, the only one that we have chosen is the PetSafe Smart Feed automatic dog feeder. Find out our review of it here,
PetSafe Smart Feed Automatic Dog and Cat Feeder, Smartphone, 24-Cups, Wi-Fi Enabled App for iPhone and Android

The PetSafe Smart Feed Automatic Dog and Cat Feeder is a recently launched product by PetSafe. PetSafe is well known to be a front innovator in terms of pet products that is extremely useful for owners. They have developed many innovative and ground-breaking products that have been proven to be useful and beneficial to pet owners.
With this extremely useful pet food timer dispenser, your dog will be able to get its food on time and you will be able to enjoy your time and social life. Heck, this pet food timer dispenser allows you to sleep in too! Say cheers to no more whining1
Why is this pet food timer dispenser so good? Simply because you are able to feed your dog no matter where you are, no matter what time it is!
With this pet food dispenser, you can use your Smartphone to dispense food, or you can pre-program the dispense timing for your dog. If you are following our drift, it means you can finally feed your dog without needing to be at the physical location. You have the ability to feed your dog according to its usual portion too.
Here are some of its top features that will surely be beneficial to all dog owners.
You Just Need A Smartphone
To operate this pet food dispenser with a timer, you just need a Smartphone as well as an active internet connection at the area at which you are using this dispenser.  Who doesn't have a Smartphone these days? With the Smartphone, you can easily dispense food for your dog at any time, at any place.
Ability To Customize Meal Times
This is awesome! You are able to set up to 12 meals to meet your dog's feeding schedule. If you are feeding twice a day, you can effectively feed your dog via this pet food timer dispenser for up to 6 days. Say yes to 5 nights of partying! Not exactly though, as we discourage owners to be away from their pets for too long a time.
For dogs that require small feeding of up to 5 meals a day, this pet food dispenser works well too. This means that you do not have to monitor the feeding at all.
Variable Portioning
Unlike some of the inferior pet food dispenser, this system allows you to customize the amount of food that is being dispensed for your dog. You can feed your dog ranging from 1/8 cups to 4 cups, depending on the dog's requirements. 
If you have read the article Dangers of Bloat in Large Dogs, you will know that your dog might develop bloat if they eat too fast. Luckily for you, there is a function on this pet food timer dispenser that allows you to feed your dog slower with the slow feed option. It allows you to feed your dog over a 15 minute period. This is awesome for dogs for all breeds, especially those with a habitual problem of consuming their food way too fast.
Also, in terms of the type of food that will be dispensed, you can use dry and semi-moist food. This rivals the many other pet food dispenser that only allows dry food.
Safe And Secure Design
There is a safety latch that prevents your dog from digging the food out from the 24 cups translucent hopper. The hopper latch keep the container air-tight, which helps to keep the dog food fresh. Some owners might not know of this, but the dog's keen sense of smell is so acute, that they are able to determine if food is fresh or not.
Cleaning Will Never Be A Problem
Cleaning of this pet food timer dispenser is easy too. Just unlatch the container and wash it. The stainless steel bowl is also dishwasher safe too.
Alert Enabled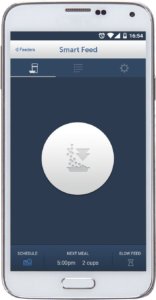 This smartphone pet feeder with a timer does allow you to receive alerts on your phone. The alerts mean that with the simple touch of a button, you can know your dog's feeding timing, schedule as well as having the ability to dispense your food via the app. Even if the pet food machine loses its Wi-Fi connection, the system will still feed your dog as per the schedule that you have programmed into it.
The controls on the Smartphone is pretty intuitive. It is really easy for you to use this Smartphone feeder too. If old grandmothers are able to use the app to feed their dogs, I don't see why you can't do it.
Conclusion
So after reading this pet food timer dispenser review, what is your take on it? Our take is that, while there might be other Automatic Dog Feeder For Large Dogs, this PetSafe Smart Feed Automatic Dog and Cat Feeder is our top choice for years to come. It does have all the functions and features that we need.
Here is a brief summary of its pros and cons, and also the link to check the price on Amazon.
Pros
Customizable portioning
Up to 12 meals
Intuitive controls
Alert function
Cons
Could be better if there is a video or facetime function
p.s. I came across this cool site which I thought might interest you.