In this article, we will be doing a review on one of the most popular Dog Crate. The Elitefield Dog Crate is constantly sought after from most dog owners for their pooch. The reasons for choosing Elitefield Dog Crate can be so compelling that most owners swear by it! There are various reasons at which getting a dog crate can be good for you, and more information can be found here.
Elitefield Dog Crate Review
Elitefield Dog Crate has one of the most extensive range for Dog Crates available in the market. It is very popular amongst owners who wants a durable dog crate that is guaranteed to provide enhanced durability, and yet at the same time ensure that your dog feels completely safe when the owner isn't at home.
Choosing the correct type of crate for your dog can be quite a daunting task, given that there are many of them available in the market right now. For the uninformed, we have the soft dog crate, wire dog crates, portable dog crates etc. Each of these dog crates serves a separate function, and you would need to find a fit for your dog should you decide to purchase one.
Soft Dog Crates are usually bought because they are easier to carry around, and also the design of the Soft Dog Crate ensure maximum comfort for your dog too. However, due to the material of the dog crate, it is usually not suitable for big chewers as the material isn't guaranteed to withstand the force from large chewers.
There are many manufacturers of Soft Dog Crates, and one of the more trusted brands is Elitefield.
Elitefield Soft Dog Crate have been providing pet owners with dog crates of excellent quality since 2004, and the Elitefield Soft Dog Crates have been the top seller on Amazon for years running. Their reliability and excellent quality makes Elite Dog Crates highly sought after in the market.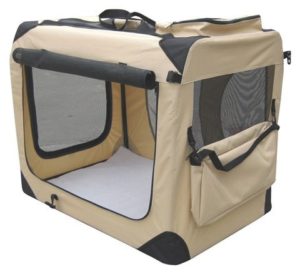 This Soft Dog Crate by Eitefield is the top seller in Amazon, and it is actually of no surprise to us. It is made of high quality materials that are highly durable. The Elitefield Soft Dog Crate is unique in the sense that is it both suitable for indoor and outdoor use, which many other soft dog crates cannot achieve. This lightweight soft dog crate is designed to ensure maximum ventilation with its 3 large mesh doors and a single mesh window. It is easy to transport the Soft Dog Crate around due to the accompanying carrying bag. For owners that want to purchase this for the winter, Elitefield has again defied conventional norms by providing a plush mat that helps to keep the dog warm during winter!
This sturdy Soft Dog Crate can be set up and dismantled within minutes, allowing the owner to transport them easily or even wash the Dog Crate too. Not many Soft Dog Crates in the market is as flexible as this.
Having said this, if your dog is a chewer, or they are constantly in clawing around, then perhaps this crate, or even all soft dog crates will not be suitable. Soft Dog Crates are essentially used when you are going on a road trip with your dog, and you need to dismantle and assemble the Dog Crate as quickly as possible. So long as your dog isn't a big chewer, the Elitefield 3-Door Dog Crate will be good for them.
This review is reinforced after many readers have validated their views online. We have not come across any reviews that is negative about this Elitefield Dog Crate. In fact, most owners have always received queries on their Elitefield 3-Door Dog Crate whenever they receive visitors. Most pretty, good looking dog crates are not as functional as this, and so the rave reviews are all justified.
Owners have also commented on the ability to be dismantled and assembled, which is important when travelling on the road. Note that you shouldn't try to transport the dog in the soft dog crate, as this isn't the function of the soft dog crate.
To reduce the effect on anxiety in dogs, Elitefield 3-Door Dog Crate has meshed windows, which allows the dog to see their surrounding even when it is locked in the dog crate, hence reducing the chance of it destroying the Soft Dog Crate.
Elitefield Dog Crate comes in various different sizes.
20-Inch Crate: 20″ long x 14″ wide x 14″ high
24-Inch Crate: 24″ long x 18″ wide x 21″ high
30-Inch Crate: 30″ long x 21″ wide x 24″ high
36-Inch Crate: 36″ long x 24″ wide x 28″ high
42-Inch Crate: 42″ long x 28″ wide x 32″ high
You would need to choose the correct crate size of your dog, so as to ensure that your pet maneuver around without much problems. In the event that you want to stow away the crate, it can be folded down and kept easily in most cars/storage spaces.
Our verdict for this? Elitefield 3-Door Dog Crate is highly recommended from us! You will never come across another soft dog crate that is as complete as the Elitefield 3-Door Dog Crate.
Pros: High quality materials. Can be used for both outdoors and indoor conditions. Helps to minimize separation anxiety. Portable.
Cons: Not meant for big chewers.
Our Rating:
(4.9 / 5)