In our listing of reviews on the best dog houses for various dogs, we have done the reviews on the Best Dog House For Mastiff, the Dog House For Great Dane as well as the Dog House For Rottweiler. Do you know what these dogs have in common? They are all large dog breeds! In that sense, if we were to conduct the top reviews of dog house for Great Pyrenees, it will more or less be the same, right? Not quite! This is because each dog does have its own needs. Then what about the case of the Great Pyrenees? What requires do they need, before you can purchase the top dog house for Great Pyrenees?
Dog House For Great Pyrenees
The Great Pyrenees is an absolutely amazing dog. It is considered to be a large breed dog, and hence you might want to consider getting an extra large dog house for them. Some of the dog house can act like an insulated dog house, or you can even provide them a dog kennel that is air-conditioned. While we did the Largest Dog Crate review as well as the Best Dog Cage For Outside, how many of them are actually suitable to become the top dog house for Great Pyrenees? Let us look at the top most reviewed dog house for the amazing dog.
Midwest Solution Series "Ginormus" Double Door Dog Crate

When it comes to extra large dog crates for Great Pyrenees, the Midwest Solution Series "Ginormus" Double Door Dog Crate
 is one of the most natural choices.
First of all, this giant metal dog crate is made of steel wire. While it might not be exactly that strong, it is more than adequate to house Great Pyrenees, since the Great Pyrenees are much more docile than other breeds such as the Rottweiler or the Pitbull. The material also ensures that the entire crate is completely impervious to the weather. Having said that, the dimensions of this dog crate will suit the Great Pyrenees. It measures at 54″ x 37″ x 45″ while weighing 80.1 pounds.
To ensure that the Great Pyrenees does not escape from this crate, or to keep the dog secured, there are three heavy duty slide bolt latches on each of the two doors. This allows you to have a dual access to your dog as well as being able to provide a good sense of security for your dog. Also, the pan is completely removable, which allows you to clean the crate more efficiently than before.
Do note that this dog crate does require some minor assembly.
Pros: Portable. Safe for docile Great Pyrenees. Suitable for indoor and outdoor.
Cons: Not advisable for aggressive dogs.
Our Rating:
(4.9 / 5)
Pro Select Empire Cage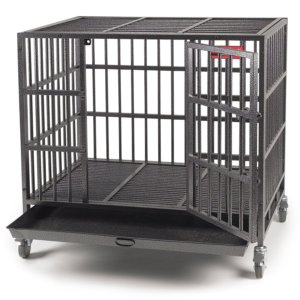 If you need to contain a Great Pyrenees that is pretty strong, then the Pro Select Empire Cage will be the top choice for you. This dog cage is also applicable for breeds such as the Pitbulls. The only reason why it is suitable for such breeds is due to the material that is being used in the construction of this affordable dog crate for Great Pyrenees.
Made with 20-gauge steel, the frame itself is 3/4″ thick, which is more than enough to hold back even the strongest of dogs. The 1/2″ steel tubes will be virtually a deterrent for your dog as they will not be able to chew its way out of the dog crate. Even if they start to chew, it will not cause any damage to the dog as it is coated with hammertone, which is known to to have properties such as rust resistant as well corrosion resistant. There are steel latches that keeps your Great Pyrenees properly secured in the dog crate when it really matters the most.
You can read the comprehensive review here.
Pros: Suitable for strong Great Pyrenees. Safe and durable. Suitable for indoor and outdoor conditions.
Cons: Not cheap.
Our Rating:
(5 / 5)