When it comes to awesome dog crates that you can use for both indoors and outdoor condition, there are several alternatives other than the Elitefield Dog Crate or the Noz2noz Soft Dog Crate. And one such model is the Petnation Dog Port-a-crate. Let us dedicate this post to doing the Petnation Dog Port-a-crate Review.
Petnation Dog Port-a-crate Review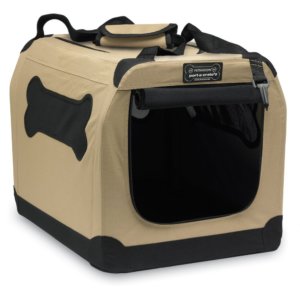 The Petnation Indoor/Outdoor Pet Home is one of highest rated soft dog crate that you can find Amazon. The crate itself had gathered much rave reviews on Amazon, and a quick search on reviews did bring up several good reviews about it. Though it is made from China, the sheer quality and aesthetics of the Petnation Dog Port-A-Crate win over the majority.
There are several features of this Petnation Dog Port-A-Crate that really appeals to us. While we conduct the Petnation Dog Port-A-Crate review, do note that we did not accept any royalties from the company. This is solely an independent review that will surely tickle the hearts of the masses.
Material
The material of the Petnation Indoor/Outdoor Pet Home is made of the light yet strong fabric panels. It is extremely delightful to know that the material is indeed soft, yet at the same time, it can provide comfort to the dog. The fabric is resistant to chews, so it does allow chewers to use it. Of course, we would prefer that you train your dog not to chew on items, as it will be a problem for you when you leave your dog alone at home. The fabric itself is completely resistant to water, hence making it one of the best water resistant soft dog crates that you can purchase for your dog. This material is able to withstand your dog's weight up to 110 pounds.
The scaffolding of this soft-sided dog crate is supported by the extra-strong steel frame, which provides the entire soft dog crate its structure. This is opposed to the regular soft dog crates that have a flimsy structure. The Petnation Dog Port-A-Crate is able to hold its structure well, which is good as the crate does not collapse at all under the dog's body frame. The rounded corners protect your dog as well as the floor from any potential damage too. 
Ventilation
If you notice, there are the mesh panels that surround the exterior of the soft dog crate itself. The ventilation mesh panels serve two purposes actually. One of them is to provide to your dog a good view of the outside, and the other is obviously to provide good ventilation into the dog crate. These two aspects are important, especially when you are traveling. It really allows your dog to rest comfortably without suffocating them at all, unlikes some of the other dog crates that are totally confined.
Easily Accessible
You can have easy access to your dog too, via the top and front doors. The doors have zippers that allow you to keep your pet secure and safe during camping trips or even at home. The doors have flaps that can be easily rolled up to provide a better ventilation or to act as an indoor dog crate for your dog.
Portability
We like this dog crate also because of its high mobility and portability.  For a medium size dog crate, it measures only at 3.8 pounds! How is that for a light and portable soft dog crate for your dogs! This portability actually opens up many opportunities for you and your dog to bond. You can bring this dog crate along for your camping trips or your picnics. It is extremely easy to carry this dog crate. This pet crate is also actually very easy to set up. It folds flat, hence exacerbating the fact that the portability is one of its best features.
Cleaning
Cleaning of the Petnation Port-A-Crate is actually simple. As mentioned, the material used is resistant to water, which makes the entire cleanup process fast and easy. All you should do is to wipe the material with the usual odor remover. Of course, you will need to physically remove the waste using these methods. For drying, you should always air dry them. If you prefer to have a good washdown, simply remove the cover and toss it into the machine, which does the heavy work for you.
How To Ensure You Purchase The Correct Size
When you wish to select the best Petnation Port-A-Crate Pet homes for your dog, you will be spoilt for choice as there are six different sizes for you to choose from. It will surely accommodate all dog breeds. What is most important to you, is that you should find the best one that fits your dog nicely. Ensure that the crate itself is not too squeezy for your dog. Also, ensure that the soft-sided dog crate does not have too much of a space. Dogs generally do not do too well in big spaces. The crates should fit their size nicely, as a larger crate will not give them the sense of security that is important to them.
As a general guide, you should first measure your pet's height. This can be done by measuring the dog from the floor to the top of the head while the dog is seated down. Add about two to three inches more, and you will have the height of the crate that is best for your dog.
To measure the length, you will need to measure the distance from the tip of the nose to the end of its tail. Add four to six inches, and you will have the length of the crate itself. This will ensure that your dog has space to move around it's in position and have some more space to move around too.