Thinking of bringing your pet on a holiday? Why not! While it might seem a taboo in the past, bringing pets on holidays is a common occurrence these days. After the airline association developed a series of rules for airplane travel with pets, there are more and more owners bringing their pets with them for their overseas trips. One of the items that they will need is the Airline Approved Pet Carrier (In Cabin). If you are traveling with your pet, then you might want to consider that. Alternatively, you can consider rolling dog carriers for airplanes. Which of this is the best rolling dog carriers for airplanes? It is actually the Snoozer Pet Carrier. Let us do a Snoozer Pet Carrier Review for this article.
Snoozer Pet Carrier Review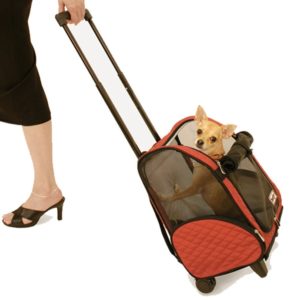 The Snoozer Roll Around 4-in-1 Pet Carrier is one of the best rolling dog carriers for airplanes that you can find on Amazon. Indeed, it is a top seller, and we have seen multiple forums about this awesome dog carrier for airplanes.
Whether you intend to use this Snoozer Pet Carrier by foot or in a plane, it can be done! This versatile rolling dog carrier can be used on many occasions. It is stated to be a 4-in-1 pet carrier as it serves four different functions. It can be a backpack, car seat, pet bed as well as a wheeled dog carrier!
Snoozer Pet Carrier As A Backpack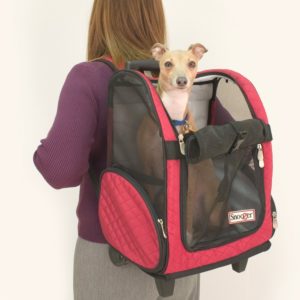 When converted to a backpack, it does look pretty decent. The backpack is spacious, and the straps ensure that the weight of the backpack is evenly distributed across your shoulders.
The straps have a padding, hence you would not feel the strain at all. In addition to that, there is the mesh window that is in between your back and the backpack itself. This allows ventilation, and ultimately it prevents you from perspiring too much. This means that you can carry your dog comfortably when you are hiking!
Snoozer Pet Carrier As A Carseat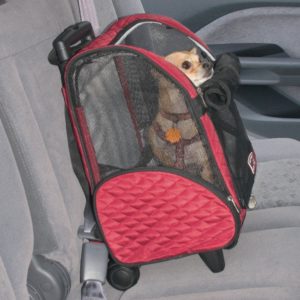 When traveling with your dog in the car, it will always be good to have a car seat for dogs. This can place them securely in the car seat, hence reducing the onset of injuries to them in the event of a crash. The dog car seat also ensures that the dog does not interfere with your driving.
As a car seat, the Snoozer Pet Carrier can be secured to the car via the straps too.
Overall Verdict Of the Snoozer Pet Carrier
Overall, this magnificent product is one of the best that you can ever find on Amazon. While doing the Snoozer Pet Carrier review, we crash tested it and also push it across various terrains. We found out that this qualifies as one of the best rolling dog carriers for airplanes simply because the wheels is able to take a decent amount of damage before crumbling.
As for comfort, the rolling dog carrier is made of microfiber as well as the quilted plush fabric. While it is indeed comfortable, it might not withstand to the scratches or chews from aggressive dogs. The sides have mesh panels, hence the ventilation is unparalleled in this category.
When you are on the go, you would always want to have your dog's basic necessities with them. This ensures that your dog can have a good supply of water, treats, and other items. In light of this, there are the zippered storage compartments that help you to store your essentials.
When it comes to traveling, you can use it in the car, as a backpack and also on the airplane. It fits well onto the area below the airplane seat. The mesh panels allow your dog to have a good view, though the dog can only see the legs. This does not give your dog an impression that it is suffocating.
It does come in three sizes and three different colors.
Small: Up to 7 pounds, measuring 12″ x 8″ x 17.5″
Medium: Up to 15 pounds, measuring 14″ x 11″ x 20″
Large: Up to 30 pounds, measuring 15.5″ x 12.25″ x 23″
We highly recommend you to purchase this best rolling dog carrier for airplanes.