Walky Dog Plus Bike Leash Review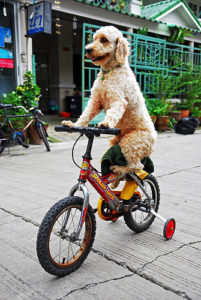 If you are an outdoor person and you love to bike, you might be exploring the idea of biking with your dog or buying a dog bike leash. Dog bike leash is a relatively new product that has gained popularity in the bike community. It allows the owner to cycle, yet at the same time walk their dogs. This effective and modern product is so intuitive that many bike owners do not know what they are missing out! In this article, we will be reviewing one of the best bike leash in Amazon, the Walky Dog Plus Bike Leash.
Let us first examine the need for this innovative bike leash.
Why Use A Bike Leash?
Do you have a dog that is very active, yet you only have the time to walk them probably twice a week or lesser? The dogs do not have the avenue to let off their energy, and hence that's why most of these dogs decide to release their energy at home, and it can be detrimental to your furniture at home. It is common knowledge that dogs need to be stimulated both mentally and physically, otherwise they will find means and ways to get your attention.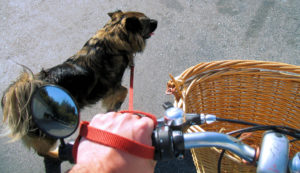 So one of the common solutions is to walk the dog regularly, which most owners are doing. Some owners do bring their dogs on biking trips too. What they do is to simply put the dog leash on, wrap the handle around the bike's handle or the owner's own hand, and off they go biking.
This is however just a temporal solution and it might not be effective most of the time. It actually poses a danger too. Imagine your dog running alongside you while you bike, and suddenly the dog decides to bolt off. The sudden movement will cause a change of direction that you were going, and most of the time it will result in you losing your balance and hence falling off your bike. You could also suffer from abrasions due to the sudden dog's movement. All of these means danger for you and your dog.
In come the Walky Dog Plus Bike Leash. This Bike Leash is so innovative, that it totally eliminates all the risks that we have mentioned earlier. Let us look into the Walky Dog Plus Bike Leash.
Walky Dog Plus Hands Free Dog Bicycle Exerciser Leash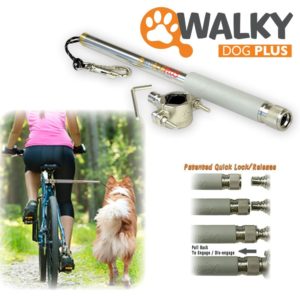 The bike leash by Walky Dog Plus is so innovative that it is used by many cyclist who swears by this product. It is made from the highest grade of High Carbon Steel, hence effectively rust proof. The leash has Military Grade Paracord with a pull strength of 550 pounds, which means it can effectively withstand the pull from all dogs!
In addition to that, it has an added safety measure that allows you to disconnect your dog from the bike immediately with its patented "Quick Release" function. The entire Walky Dog Plus Bike Leash is so easy to install that it does not require any screwing at all.
It allows the owner to effectively walk the dog and ride your own bike at the same time. The length of the leash is adjustable, and it is deliberately kept short so that the dog will not getting anywhere near the front and back of the bike.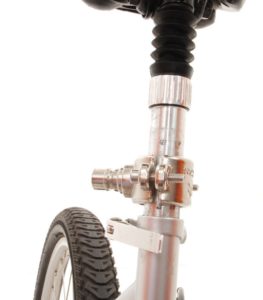 Usually, the Walky Dog Plus Bike Dog Leash is installed at the metal shaft connecting the bike seat to the bike. To avoid your dog from pulling your bike during their sudden movements, the Walky Dog Plus has an internal shock-absorbing system that allows the dog to move around without pulling your bike at all. Always use a dog harness or a no-pull dog harness in conjunction with the Walk Dog Plus Bike Leash as you do not want to pull your dog by its collar when you run as the latter will damage the dog's neck.
If you want to pull the dog by its chest, you can consider getting this item, also by Walky Dog Plus. The Walky Dog Low Rider Bike Attachment Leash Accessory
 is actually a popular choice amongst owners too, as it helps to lower the center of gravity, hence it will be suitable for shorter dogs.
The Walky Dog Plus Bike Leash main's objective it to put you in control over the dog's movement. Hence the risks of injuring you or the dog is completely mitigated.
Why You Should Purchase The Walky Dog Plus Bike Leash.
It is fun to bike with your dog running beside you. And it is 100% safe!
Good for your dog to release its limitless energy.
Excellent construction material that is guaranteed to bring comfort and safety to your dog.
Internal spring mechanism that mitigates any sudden movement by your dog.
The Walky Dog Plus Bike Leash doesn't damage your bike at all.
Simple mounting.
Unique and patented quick release system that helps to remove the dog bike leash in seconds.
Doubles up as a walking leash.
Limitations Of The Walky Dog Plus Bike Leash
There are several limitations of the Walky Dog Plus Bike Leash. One of them is that you shouldn't use this on your dog if they are less than a year old. Also, if your dog weighs less than 25 pounds, they shouldn't be on this system.
In addition, if your dogs are known to be strong pullers, it might good for you to get them acquainted on the system before using it with them. Children below the age of 16 shouldn't be using this system. This goes the same if they weighs lesser than 80 pounds. The Walky Dog Leash shouldn't be used in conjunction with babies on the bike or with pregnant riders.
The Walky Dog Bike Leash have a maximum reach of 14 inches. Should you need to extend the lead beyond 14 inches, you can get the EzyDog Dog Leash Standard Extension.