It is a known fact that the Golden Retriever is one of the toughest breed to maintain their coat. With their dense and thick undercoat, it can be pretty tricky for you to groom it. Without the professional best dog clippers for Golden Retriever, it might be tough! Where exactly can you find the best dog clippers for Golden Retriever then? Lets find out!
Best Dog Clippers For Golden Retriever
As mentioned earlier, is is tough to groom the Golden Retriever due to its coat. In fact, the double coated dog is so notorious, that some professional dog groomers have a separate charge just because! And this is exactly the reason why I decided to write this article. Rather than you going to the professional dog groomers, why not purchase your own professional dog clippers for the Golden Retriever? It is not that tough to shave off some hair from your dog's coat. Of course, the correct tool will be needed. So since we have determined that the Golden Retriever have a double coat as well as the dense undercoat, we will need to find a good pair of heavy duty professional dog clippers for the Golden Retriever. Here are some of our top recommendations for you.
Andis ProClip AGC2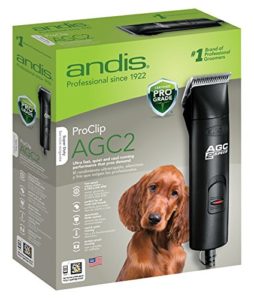 This Andis ProClip AGC2 is the top choice amongst owners of Golden Retriever. In fact, there are some farmers who use this for their horses too. The only reason why it is in demand by these owners is that the Andis ProClip AGC2 is totally meant for heavy duty usage.
In terms of speed, it does come in two different selection for speed. When you select the faster speed, the motor runs up to 4.400 strokes per minute. This allows you to trim the thicker part of the dog's hair. Also, this allows for a quicker shave too. The slower speed is usually use for a more precise cut.
The Andis ProClip AGC2 uses the UltraEdge #10 blade, and it does have the detachable blade clipper too. With this detachable blade clipper, it will be easier for you to maintain this best dog clipper for Golden Retriever. Should you wish to have more options when you groom your Golden Retriever, you can purchase more blades here. Do remember to purchase the Andis 12750 Cool Care Plus too.
Pros: Quiet. 2 speed. Multipurpose. Heavy duty.
Cons: Not cordless
Our Rating: 
(5 / 5) Editor's Choice.
Wahl Professional Animal KM2 Clipper Kit 9757-200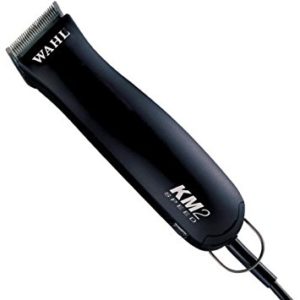 When you look at the tools that the professional dog groomers use, you will notice that the Wahl Professional Animal KM2 Clipper Kit 9757-200
 do appear frequently. Indeed, if you want to avoid those expensive trips to the professional dog groomers, then you can purchase this Wahl Professional Animal KM2 Clipper Kit 9757-200
.
What I like about this purchase is that it comes with the no.10 detachable blade from the competition series of blades. It does have the 2 extra drive tips as well as the blade oil and others. We are particular about the blade oil, as it is necessary for us to maintain this professional dog clippers if we want to prolong its life.
This professional dog grooming clippers for Golden Retriever uses a free rotary motor to clip the dog's coat. Coming in 2 speeds, the faster speed is really for clipping the tough coats that Golden Retriever have. The slower speed is for a more precise and careful cut at the sensitive areas.
Some of my peers love this simply because the entire cutting process is smooth and fast. It is said that the new high performance blades cut 2.5 times faster than Wahl Competition Series blades. Being durable, it is certainly a top choice for Golden Retriever owners who wishes to pamper their dog. In addition to that, you might want to consider the Wahl Professional Animal Stainless Steel Guide Combs 3390-100
 too. These set of guide combs allows you to customize the clipping process.
Pros: Quiet. 2 speed. Multipurpose. Heavy duty. Extra durable.
Cons: Not cordless
Our Rating: 
(4.9 / 5) Professional's Choice.
Wahl 8787-450A MiniArco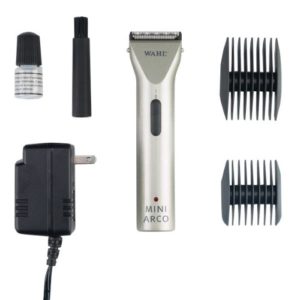 This Wahl 8787-450A MiniArco is another professional dog clipper that is being designed by Wahl. Wah; have a knack of creating something so niche, that it caters to very specific crowds.
What we love about this is its perfect combination between power and functionality. You can use this while it is corded, or you can choose to plug it into the power socket while trimming the dog's hair. This provides you with the option of grooming your Golden Retriever in the comfort of your home, or you can groom them while on the go.
As for the power, it does have a cutting power of 6,000 strokes per minute. And that is achieved while the entire operation is quiet. The rotary motor is so efficient and powerful, that it will be able to trim or clip your Golden Retriever's coat with ease. You can easily detach the blades, and it does come with a #30 trimmer blade. This blade went through a patented manufacturing process that results in it being able to cut the coat to be fed through the blades quickly and more efficiently.
Pros: Quiet. Cord/Cordless combination. High strokes per minute.
Cons: Single speed.
Our Rating: 
(4.9 / 5)