Have you ever wondered if there are any extremely tough crates or kennels that can withstand forces from drops and such? I have asked myself that question many times, especially after my beloved dog crate have many dents and scratches. I have dropped many crates before, and most of them simply break down. Also, some of the dog crates are airline approved, yet I wonder what is the use of it if they can be destroyed that easily. This is then I found out about the Ruff Tough Kennels. The Ruff Tough Kennels is indeed a godsend for owners who are as clumsy as me. Let us take a look at the Ruff Tough Kennels Reviews.
Ruff Tough Kennels Reviews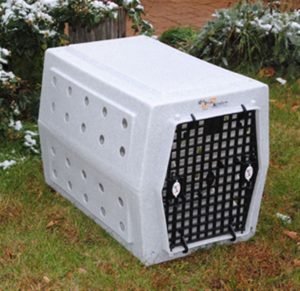 In all honesty, I really wouldn't think of the Ruff Tough Single Door Dog Kennel as an Airline Approved Pet Carrier. Indeed, I wouldn't be doing the Ruff Tough Kennels Reviews if not for the amount of crates that I got to purchase for my dog. I myself changed the dog's crate more than eight times in a space of 2 years. With that amount of money, I would have bought the Ruff Tough Kennels with change to spare.
First of all, if you are a frequent flyer and you wish to bring your dog along with your trips, you can really consider purchasing this Ruff Tough Kennels. Indeed, the dimensions of the Ruff Tough Kennels meets the requirements for most airlines. Do check with your airline for specifications.
There must be very strong reasons why we will recommend this Ruff Tough Kennels for airline travel, right? Yes indeed! Lets read on.
Exceptional Material
In terms of material, it is made of the heavy-duty, high-density polyethylene. This material is very well known to be extremely sturdy against knocks. Also, this material is completely safe for your dog. While heavy chewers might be able to chew through most materials, they will find it extremely daunting to chew on this. This is because while doing the Ruff Tough Kennels Reviews, we note that there isn't any excess material that exists in the Ruff Tough Kennels. This means that your dog will be unable to get a hold on anything that they can chew on. This effectively stop or discourage the dog from chewing.
Enhanced Durability And Security
When the designers wanted to stress test this Ruff Tough Kennels' durability and security, they drop the entire kennel from a height of 12 feet. While most crates or kennels will simply give way, we were surprised that when doing this Ruff Tough Kennels Reviews, the crate itself did not give way when dropped at 12 feet. In addition to that, there is virtually no scratches nor dents at all. This is a plus point, especially when you can be pretty clumsy or you are stacking this up. Yes, you read that correctly. The Ruff Tough Kennels is completely stackable! You can stack them using the bolts and heavy duty metal inserts, which can be purchased separately. For breeders, I hope you are reading this!
In terms of securing the dog, there is the compact door that exists in this Ruff Tough Kennels. This awesome door is able to keep your dog safe and secure while you are moving the kennel around. This is a major plus point if you are using this Ruff Tough Kennels on the airplane.
Compact and Portable
As mentioned earlier, this Ruff Tough Kennel can be one of the best airline approved pet carrier. Also, you can easily place this inside your SUV, truck or the pickup. This is due to the safety tie downs that is present inside the system itself. Also, in terms of portability, there are handles that comes with the smaller sized Ruff Tough Kennels. For the larger sized ones, you can purchase it as a separate accessory. In addition, it is actually very light in weight. Hence, it will be so easy for you to carry this crate around. This means that you can easily bring your dog to the vet without needing to worry about the transportation of your dog.
Cleanliness and Ventilation
Last but not least, when doing the Ruff Tough Kennels reviews, we note that the cleanliness and ventilation of the kennel does play a major role in deciding if it is good enough of not.
Firstly, in terms of cleanliness, it is extremely easy for you to clean this dog crate or kennel up. You simple can hose it down! It is really that simple! Also, it does have a good ventilation system too. When doing the Ruff Tough Kennels reviews, we noticed that the kennels do have vent holes that measures 1″ in diameter. This ensures that there is a good flow of air into the crate itself.
Conclusion
If you really want a good and compact airline approved pet carrier, you can really purchase the Ruff Tough Kennels. Also, if you are as clumsy as me, or if your dog is known to destroy crates, then this Ruff Tough Kennels is also the top choice for your dog!