Usually, we discourage using human medicine on dogs. This is because the medicine that we use is not meant for dogs. We all have different immune systems, and hence not all human medicine is suitable for them. However, we came across a unique question that is posed by a contact of mine. I was asked if I can put triple antibiotic ointment on a dog. As I am not in the know, I consulted my veterinarian friend, and this is what I gathered.
Can You Put Triple Antibiotic Ointment On A Dog
Antibiotic ointment is used on humans whenever we need to counter a bacterial infection. It can really make a difference during a bad bout of bacterial infection. But before we try to put the triple antibiotic on a dog, let us find out what is the triple antibiotic ointment.
What Is Inside Triple Antibiotic Ointment
Essentially, the triple antibiotic cream comprises of three different ingredients that is specifically chosen to help fight bacterial infection. Namely, they are the Polymyxin B, Neomycin as well as Bacitracin. These antibiotic are active in the sense that they have only 1 specific purpose, which is to fight bacteria that exists on the skin.
Usually, antibiotics are not mixed together, as the effect might be counter productive. However, when the above three strains work together, it really compliments each other's properties. As such, it is able to take on most common bacteria. This includes the bacteria that is found on animals too. Indeed, some of the bacteria on animal skin is found in common places. Not to worry, as the triple antibiotic ointment is able to counter that too.
Precaution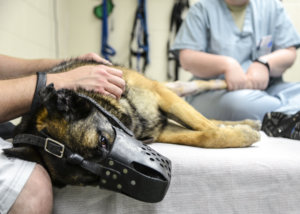 Before you go ahead and apply the triple antibiotic ointment, you might want to note a few precautionary measures. First of all, do understand that the antibiotic cream is not to be ingested at all. In light of that, we always recommend our readers to don a muzzle on their dogs or put a shield around the dog's neck. This will prevent the dog from licking its wounds and ingesting the triple antibiotic ointment by mistake.
The other reason why we encourage you to don the muzzle on the dog is due to the reaction that dogs give when the ointment is applied on their skin. As the ointment helps to kill bacteria on thje skin, it might cause some initial discomfort. Some dogs will display aggression when this happens. With a muzzle, you are actually protecting yourself as well as the dog.
How Long Should The Treatment Be
Do follow what the vet says when you purchase the ointment. If not stated, then it is safe to practice applying the ointment three times daily. The maximum number of days of application should be kept at 1 week.