How many times are you faced with this situation: You walk into a store wanting to purchase a food for your puppy, but you are faced with a myriad choice of food. You then chanced upon a particular food that says it is specially made for your dog's breed. Without thinking, you simply purchase the puppy food, and walk out of the store happily, not knowing that you have fallen into a marketing trap. Our objective for this article is hence to introduce to the readers a particular brand of food called the Orijen Puppy Food, which is one of the best there is in the market for puppies. It has two variations, one of which is the Orijen Puppy Food For Large Breeds, and the other Orijen Puppy Food For All Breeds.
Orijen Puppy Food
In an earlier article, we mentioned about the need to provide quality food for puppies. Just to recap, it is important to select the food for puppies very carefully, like how we would select the best milk powder for our babies. The quality of dog food for puppies can have a significant impact on the quality of the lives that they are going to lead, and dogs do not have a very long life as compared to humans. And that is the compelling reason why we choose to review the two variants of Orijen Puppy Food.
---
Orijen Large Breed Puppy Food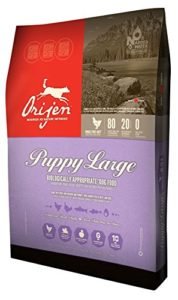 If you own breeds like German Shepard, Great Danes or any other large breeds, then this Orijen Puppy Food For Large Breeds will be suitable for your puppy. There are various parameters to play with when it comes to choosing dog food for your large breed, and one of them is limiting the amount of calories and calcium that your large dog is taking. The reason is simple; Large dogs will naturally grow to a large size, and if you overfeed feed them with food with high calories and/or calcium content, it will do damage to the dog's body. The dog's natural progression will be impeded by the over development of the dog structure and the dog's weight, and it will cause problems when the dog is older.
Orijen Puppy Food solves that problem for you. It contains high ratios of farmed chicken, turkey, whole eggs and wild-caught fish. Hence it has the necessary proteins and fats that is needed for a large puppy's growth. The idea is to provide to them food that they would have caught should they be left in the wild. It is grain-free, and the carbohydrate level is deliberately kept at a low level to ensure that the large puppy do not overgrow beyond its natural rate.  Also, it contains natural ingredients like fruits and vegetables that are rich in phytonutrients, B-vitamins and essential trace minerals. Note that this puppy food is specially formulated for large breed puppies. The calcium level for this bag is kept at a healthy level for your large breed puppy. This also qualifies as a Orijen Puppy Food for German Shepherd.
---
Orijen Puppy Formula Dry Dog Food For All Breeds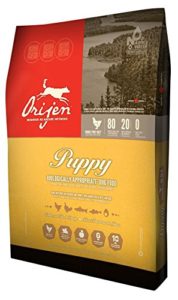 This Orijen Puppy Food is good for dogs of all breeds. The ingredients are derived from free-fun farm animals, wild fish and nest laid eggs. It aims to replicate the nutrients and minerals from wild animals, exactly like how it will be if the dogs are left in the wild. This ensures that the dogs are kept healthy. It has healthy levels of proteins and fats, which is necessary for optimal dog's growth. The low-glycemic Orijen Puppy Food helps to maintain lean muscle mass while ensuring that your dog is filled with all the energy it needs at that young age. Note that the OriJen Puppy Food's ingredients consist of 80% meat ingredients, and the rest are regional fruits vegetables and botanicals. This means that the food is packed full of nutrients!
This is extremely suitable for puppies of all breeds. While Orijen's puppy food are not exactly cheap, it is mitigated when you consider the health benefits it can get. Also, you should factor in the amount of money you would have spent in the dog's later age should you use an inferior puppy food. This Orijen Puppy Food Is highly recommended by us!