In our previous article the Best Wireless Dog Fence Reviews, we did mention that the company PetSafe creates some of the world's best wireless dog fences in the world. A quick search on Amazon shows many results for this. However, how many of these are specially developed for small dogs? Smaller dogs tend to have a very specific trait or requirement that is blind to many owners and developers of the fences. As such, not all of them are suitable for small dogs. Which then is the best wireless dog fence for small dogs? And what should you be aware of?
Best Wireless Dog Fence For Small Dogs
The main difference between the regular wireless fence and the wireless fence for dogs is the size of the collars. Can you imagine having an extra large collar for your, let's say, Chihuahua or Yorkshire Terrier? If the collar does not fit, then the entire wireless pet fence system will be rendered useless. Also, since the dogs are smaller, the amount of correctional stimulus have to be properly adjusted to suit their body size too. Over-stimulus is often said to be the cause of the failure of the entire wireless invisible dog fence system. With that, let us look into the top few recommendation of the best wireless invisible dog fence for small dogs.
PetSafe Wireless Fence Pet Containment System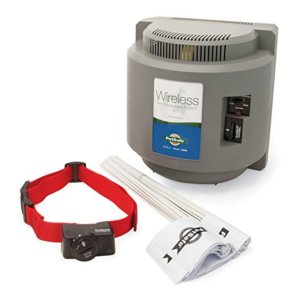 This PetSafe Wireless Fence Pet Containment System is often regarded as the only system that you will ever need for your dogs. It doesn't require you to be an expert in engineering or other fields as you do not need to dig and bury any wires nor do you need to know how to fix it up. This is simply because the entire installation process is so simple, then you hardly need the manual at all.
The range of the wireless dog fence is at a radius of 90 feet from the transmitter, which is more than enough for small dogs. The collar itself has 5 levels of static correction as well as the tone-only mode. Usually, the tone-only mode is used for training your dog more than anything else.
The collar is suited for dogs weighing 8 pounds or more, and with neck sizes ranging from 6 to 28 inches. This makes it one of the best wireless dog fence for small dogs. In addition to that, there is a safety cutoff that stops the emitting of static correction after 30 seconds of continuous emitting of static correction. It will rest for 5 minutes before emitting static stimulation that lasts for a maximum of 30 seconds, depending if the dog has entered the safe zone or not. This safety feature helps to prevent the small dog from being injured due to prolonged static stimulation. Also, there is a warning zone that emits a tone once the dog ventures too near to the end of the boundaries. This will help to discourage the dog from barging through.
Another top feature of this invisible wireless dog fence for small dogs is that the entire system is completely waterproof. This means that the fence is still active even during inclement weather. Do note that, however, it is recommended for you to place the transmitter in a good position. This is because factors such as terrain and metal objects will affect the range of this wireless dog fence for small dogs.
Last but not least, for the campers out there, you will be glad to know that the entire fence is completely portable. This means that you can create your own invisible fence system even when you are outside camping with your dogs!
This wireless invisible dog fence is highly recommended by our in-house experts too.
Pros: Suitable for small dogs. Safety feature. Portable
Cons: Range can be better.
Our Rating:
(4.9 / 5) Consumer's Choice
PETPAL Wireless Dog Fence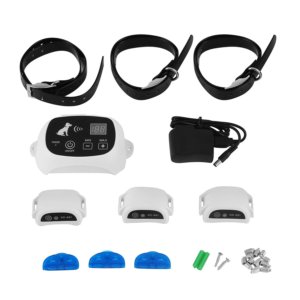 The PETPAL Wireless Dog Fence is an up and coming wireless dog fence that can rival the competitors. It can be used on multiple dogs, and it does have an interesting display unit that displays several metrics that are important to you.
The range of this wireless invisible dog fence for small dogs is at a radius of 1640 feet. It is suitable for dogs weighing 8 pounds and above while fitting dogs with neck sizes ranging from 8 to 21 inches. This makes it extremely well suited for small dogs!
To discourage your dogs from running out of the containment area, it uses a static correction, emitted via the collar, to your dogs. There are up 100 levels of incremental static correction levels. This is good, as your dog will not be overly corrected, which in turn prevents injuring your dog. Should your dog breach the containment zone, the collar will release a warning tone followed by the static correction. There is a safety feature that cuts off the static correction if it had emitted the correction continuously for a period of time.
The entire system is portable and waterproof, hence you are able to bring this along with your camping trips.  In addition, the display units clearly show the distance of the dog away from you. This is good, as it provides real-time information to you.
As a guide, you should place the transmitter at least 1.5m away from metal objects. You should also ensure that the devices are all properly charged before you use it.
Pros: Safe. Portable. Highest range. 100 levels of Incremental static correction.
Cons: Signal can drop near boundaries.
Our Rating:
(5 / 5) Editor's Choice
PetSafe Stay + Play Wireless Fence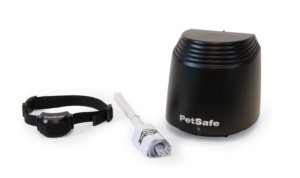 This PetSafe Stay + Play Wireless Fence is very much similar to the  PetSafe Wireless Fence Pet Containment System. The main difference is that this particular wireless dog fence for small dogs have a lower weight requirement, and the range of this system is much larger too.
With a range of 105 feet in radius, this system allows your small dog to run about in the yard without confines. This is when you can truly be amazed at how playful your dog could be. You can adjust the radius of the confinement zone with a dial. This allows you to customize your dog's playing area. You have to be mindful that the terrain, as well as metal objects, affect the range of the transmitter. As a guide, we usually recommend users to place the transmitter at least 1.5m away from any metal objects. Also, You should keep the transmitter off the ground too. This will ensure that the system receives and transmits the best signal.
This best wireless dog fence for small dogs does come with the safety feature that is the trademark for all PetSafe equipment. It is catered for dogs weighing 5 pounds and above. The collar fits neck sizes ranging from 6 to 23 inches. Should you wish to use this on multiple dogs, you should purchase additional collars.
Do note that this system is not portable, and hence this might just be the only downside of this otherwise amazing wireless dog fence.
Pros: Safe.
Cons: Not portable. Average range.
Our Rating:
(4.8 / 5)
What To Take Note When Installing Transmitter
There are a few general guidelines that you should take note of when you wish to install the wireless transmitter for your dog. First of all, the transmitter should be placed at least 1.5m off the ground. This is to prevent minimal interference from the ground. Also, you might want to note if there are any metal objects near the transmitter. This is because the signal gets weaker if there are metal objects near it. Optimally, the transmitter should have a direct line of sight to the collar itself. This will maximise the range of the signals.
Some of the transmitters are portable, which is a plus point. You just have to note that even in the outdoors, the signal will be weak if there is interference with the surroundings. For example, if the terrain is hilly or rocky, the signal will be disrupted. Hence, to ensure that you have maximum control over the radius of the signal field, we recommend you should set up the wireless fence system in an open area.
Conclusion
In conclusion, which of these wireless dog fence is best for small dogs? Personally, I would choose the PETPAL Wireless Dog Fence. The main reason is that it does have the largest range of them all. At a cool 1640 feet, It means that I have the luxury of being able to customize my own containment zone, based on my terrain or based on wherever I am. It is portable, and hence I could bring it around during my regular camping trips with my dog. Of course, during camping, I will bring along the Best Tent For Camping With Dogs as well as the Outdoor Dog Mat For Camping Or Travelling. These items help me to provide a comfortable place for the dog to rest in, even while camping.