I got this idea for buying a remote control car for dogs to chase years ago when I purchased a Lego set that is battery powered. Of course, my playful dog just had to chase and bark at the RC car while I maneuver if around using the remote control. It then dawns on me that I can use other RC cars for the dogs to chase. It might eventually be a good form of exercise, especially for the lazy dogs out there. So, having said that, which is the best remote control car for dogs to chase?
Best Remote Control Car For Dogs To Chase
When you wish to find the best RC cars for dogs to chase, you have to be mindful of the condition as well as the platform at which you wish to allow your dog to play in. Do you wish to play with your dog in off-road conditions, like in mini trails, or you wish to let your dog run about in tall grasses? Each of these will mean a totally different set of RC cars that you will purchase. With that, let us take a look at the best remote control car for dogs to chase in its respective terrain conditions.
Traxxas – 36054-1- Voiture Radiocommandé – Stampede – Xl-5 – Ready To Race – Monster Truck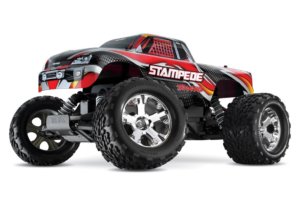 The Traxxas – 36054-1- Voiture Radiocommandé – Stampede – Xl-5 – Ready To Race – Monster Truck
 is one of the most recommended RC cars for dogs to chase in the various RC forums that you find on the Internet.
This Traxxas Monster RC truck is one of the various few that are widely reviewed and accepted by the RC community. It does have the perfect marriage between design and functionality. Having said that, the components that are being used to design and construct this RC car is of the highest quality that is meant to last the distance.
This truck measures 16.25 inches long while having a wheelbase of 10.63 inches. Since it is at a height of 9.5 inches and has a front and rear track at 12.75 inches, it would really allow you to let your car chase this truck around tall grasses or even around trails or sand dunes. The traction the wheel is super, hence your dog will not be caught in the wheels at all. The weight of this RC car is at about 4 pounds, so transporting this around will be relatively easy.
For what it is worth, the Stampede XL-5 has a chassis that is made of composite nylon. The XL5 is considered to be one of the toughest RC trucks that you can ever find on Amazon. It can run through tall grasses or even through off-road conditions. The top speed of this RC truck is at 30mph, though we strongly recommend you not to exceed that at all. Try to go around 10-15mph to let your dog have a chance of playing with it.
Other than the previous few features, you can communicate with the RC truck using a TQ 2.4GHz radio system. The entire best RC car for dogs to chase is completely waterproof, hence you can use this in all sorts of weather condition! This  Traxxas Stampede Xl-5 is highly recommended by us!
Pros: Very easy to control. Excellent in all weather conditions. Top speed of 30mph.
Cons: Although easy to clean, it gets dirty fast.
Our Rating:
(5 / 5)
ARRMA 1:10 Scale RTR Remote Radio Control Car: GRANITE BLX 2WD Electric RC Monster Truck with 2.4GHz Radio, Servo, ESC, and Brushless Motor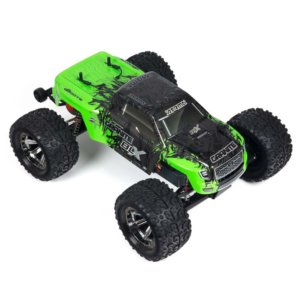 This ARRMA GRANITE BLX 2WD Electric RC Monster Truck is highly recommended in the forums. This is primarily because of its functionality as well as its specification. As you might know, it does have a brushless motor, which apparently is much better than the brush motor.
While it is stated to be more suited for bashing as well as extreme off-road riding, it doesn't mean that it is not suitable for dogs to chase. On the contrary, it is the perfect Remote control car for dogs to chase. You can provide a safe area for your dog to chase this off-roader around. If you are worried about top speeds, you will be thrilled to know that the power generated by the 4-pole brushless motor is able to generate a speed of up to 60mph. Having said that, I do not recommend you to speed this speedster to more than 15-20mph, unless you decide that you can train your dog to be a sprinter.
To control this awesome RC car for your dog to chase, you can use the tactic TTX300 radio system to communicate with your RC car. This, combined with the specifications of this RC car, allows your dog to chase after it effectively. There are the oil-filled shocks that ensure a smooth ride. Why is this important? It is important simply because you do not want your dog to chase after the RC car, only to find it being overturned.
Its materials, as well as its components, are totally weatherproof. This means that your dog can chase after the RC truck in all sorts of weather conditions. The wheelbase as well as the power of the motor will ensure that the entire chasing experience is awesome for your dog!
Pros: Affordable. Easy to control. All-weather RC car.
Cons: Simple design.
Our Rating:
(4.9 / 5)
Conclusion
In conclusion, are these two the only top two RC cars for your dog to chase? Not! There are actually lots more out there. We simply took the liberty to narrow down our top 2 choices for you to select. These top choices have been proven to be able to provide the complete experience for your dog. If you would like, you can also purchase the Top 5 Wooden Dog House Reviews to complement the entire outlook for your dog!