If you own dogs that love to shred items, then it must have caused you much trouble in the past. I recall incidents whereby I returned home after work, expecting to see and feel the love from my dog. Sure thing, I did feel love, but it was more of the dog presenting to me its art pieces of the day. It can be shredded pieces of paper or destroyed toys all around the house. God knows how many times I had to change my furniture due to the unsightly scratches. I was so tired of training the dog to stop shredding or destroying the items. I tried various training methods, but somehow it was always me finding the ball is totally shredded. It then dawned upon me the age old saying of "if you can't beat them, join them". This is when I decided to find for toys for dogs that like to shred.
Toys For Dogs That Like To Shred
If your dog loves to shred, then there are indeed items that you can use. For example, you can look into the Top 3 Indestructible Dog Bed For Crate and the Top 4 Indestructible Dog Crate Pads. All of these chew proof items are indeed awesome for owners whose dogs are miniature Hulks. In our article Looking For A Non Chewable Dog Bed?, we have also recommended dog beds that are completely indestructible.
What about toys? Are there toys that are indestructible, hence qualifying as toys for dogs that like to shred? When it comes to such toys, you would need to check out the materials that are being used in the construction of the chew-proof toys. Do note that some materials can be dangerous for dogs. Imagine if the dog manages to chew the supposedly chew-proof toy, the item might get lodged in the dog's throat. This is dangerous! There are dogs dying all the time from suffocation due to the lodged items in the throat.
There are plentiful of toys that are shred proof on Amazon. Here is a selection of some of the best toys for dogs that like to shred.
KONG Classic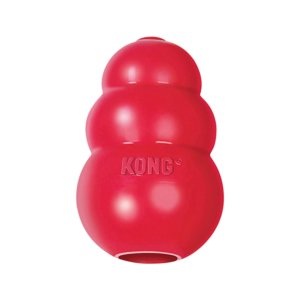 The KONG Classic Large
 is one of the toys for dogs that like to shred. One of the top reasons why dogs find it extremely tricky to destroy this toy is due to its material as well as the nature of the toy itself.
Why nature? Well, this toy happens to be an interactive dog toy that promises to engage the dog's attention for hours. It is mentally stimulating, hence providing value to the dog, especially when the owner isn't at home. Usually, owners will put treats at the rear end of the toy. Due to the unpredictable bounce and design of this chew proof dog toy, the dog will find it tough to extract the treat or even kibble from the toy.
As for the material, it is made from extra durable rubber that is safe for dogs. The paint does not come off, and neither will it disintegrate, hence making it extremely safe for dogs! This is one of our highly rated dog toys for dogs that like to shred.
---
Goughnuts – Dog Chew Ring (Power Chewer)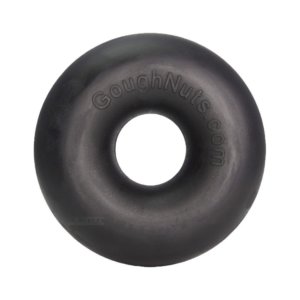 The Goughnuts – Dog Chew Ring (Power Chewer) is one of the most anticipated items that is expected to take the market by storm. Shaped like a doughnut, it promises to provide endless of hours of fun as well as being completely chew-proof.
Made from extremely durable rubber, it is stated to be stronger than the Kong. This is awesome if your dog has completely destroyed most of the "indestructible" or "chew-proof" toys out there. The round-shaped toy comprises of three layers. If your dog, if ever, chewed through the outer layer, it will reveal an inner red layer beneath the black coat. If this happens, the company will replace the toy for you at no additional cost at all.
The rounded surface also prevents the dog from getting a good bite on the surface also. So far, my dogs have yet to be able to puncture the toy at all. This is perhaps the best toy for dogs that like to chew!
---
West Paw Zogoflex Bumi Interactive Tug of War Durable Dog Play Toy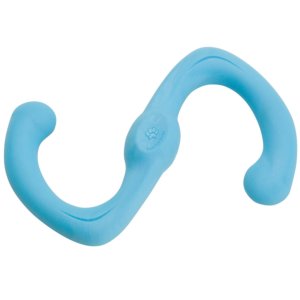 What happens if your dog loves to swim, and yet they have strong jaws? Will there be any toy that is suitable for them to play while they are in the water? If that is the case, then you can consider the West Paw Zogoflex Bumi Interactive Tug of War Durable Dog Play Toy. It is best suited to be utilized together with a human. This is mainly because you can use this as a tug-of-war game with your dog, which helps to promote bonding between the dog and the owner.
Made from the extremely durable material, it can stretch up to twice of its original length without breaking. This makes it fun for the dog too. As for the floating capabilities, this dog toy can float on the water easily, hence your dog will be able to enjoy playing with this dog toy even when they are in the pool. The material is completely safe for dogs too. You can now finally have a good time with your dog in the pool, yet at the same time not fearing that the toy that you bought for your dog will disintegrate and crumble after being chewed by the dog.
---
Small Dragon Dog Toys with Chew Guard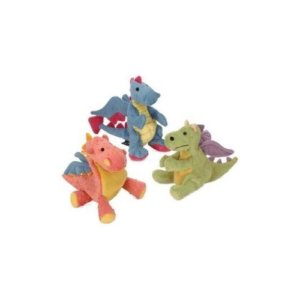 If you are looking for a softer toy that is fun for your dog to chew on, yet they are able to resist the strong jaws of the dog, then the Small Dragon Dog Toys with Chew Guard might just be the best choice for you. This means that no matter how much your dog chews on this toy, the filling will never ever come out, unlike conventional toys of the same nature.
Made from the company's own tough chew guard technology, it is able to provide countless of fun to dogs with strong jaws, yet being able to remain intact! Perfect for strong jaws or large breeds, this toy is made from a chew guard lining that helps to add a durable liner to the toy, which is lacking in most other regular toys that you see.
Just throw this toy at your dog, and see how they play with this toy with much glee!
---
What To Look Out For When Purchasing Toys For Dogs That Like To Shred
So we have reviewed some of the best toys for dogs that like to shred. But before we can choose the perfect one for our dog, we will need to consider various metrics before the decision can be made. Truth to be told, it all depends on you and your dog's preferences as well as the situation at which the toy is being used.
For example, if you are looking for the dog toy to administer treats or even food, then the Kong might be a better choice. If you are looking at a non-chewable dog toy that you can use even while swimming with your dog, then the West Paw might be the best. The said dog toy is able to float on water, hence your dog need not dive beneath the water to retrieve the toy at all.