If you have been on social media long enough, you would probably have seen pictures of dogs lying blissfully on a float while on the water. If you imagine this to be just a fantasy, you are in for a rude shock. It is really possible for your dog to enjoy floating on the water, and this is made possible only by using dog beds that float on water. While there are plenty of them that exists on marketplaces like Amazon or eBay, not all of them are stylish. Of course, you would want to have stylish dog beds that float on water right? Let us take a look at some of the top reviews of stylish dog beds that floats on water.
Top Stylish Dog Beds That Floats On Water
There are quite a number of these on Amazon, and most of them look really good and pretty too. However, putting aesthetics aside, we will need to look into the functionality as well as the suitability of the reviewed dog beds for pool to judge if it is indeed a suitable one for your dog.
SwimWays Spring Float Paddle Paws Dog Pool Float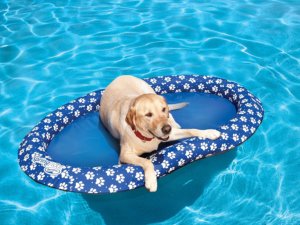 This SwimWays Spring Float Paddle Paws Dog Pool Float
 is the top choice for most dog owners. It combines aesthetics as well as functionality in such a beautiful manner that not many other dog floats can make its sheer quality.
It allows your dog to float elegantly and calmly on the water. This floating dog bed has a puncture resistant layer which is made from fabric. While of course, it does not deter the super-aggressive chewers (no dog beds can be a match for the super-aggressive chewers), it can resist the chews of most dogs as well as resisting the claws too.
One of the top reasons why it is comfortable for the dog is due to the way the material is being sewn together. It uses a patented inner spring which is sewn directly into the edge. This helps to promote extreme comfort as well as good stability for your dog while it is on the water.
It comes in two sizes, and the larger sized dog bed for pool is able to accommodate weights up to 65 pounds.
PAWCY 6200 Doggy Lazy Raft, Large

The PAWCY 6200 Doggy Lazy Raft is another top selling dog pool that floats on water that you can find on Amazon itself. For owners who are more into aesthetics, this dog bed for pool might be a better choice for you.
The exterior layer is made from the super durable and puncture resistant vinyl fabric. This ensures that your dog can have an extremely comfortable time resting on this dog float and at the same time not being able to damage the float at all. Indeed, it is proven to be durable against punctures, which itself is their main selling point.
Do note that there is a small hole that exists at the side of the dog float itself. The purpose of the hole is to allow air to escape from the layers of fabric, which will eventually help the entire float to stay afloat, hence providing a comfortable place for your dog to rest while the float moves calmly on the water!
What To Look Out For When Buying Floating Dog Beds
When you wish to purchase the floating dog beds, you will need to first consider if the dog beds is suitable for your dog. For this consideration, you will need to look into your dog's size as well as its temperament.
If your dog is too large, you will need to buy a larger dog bed or dog float to accommodate its size. If not, the floating dog bed for pool might just crumble into the water under the dog's body weight.
As for the dog's temperament, you will need to be mindful of this as some dogs do have larger and sharper claws that might puncture the material too. If you notice, the dog's temperament works closely with the material of the floating dog bed itself. Hence, to prevent the entire bed from collapsing due to the dog's claws, we will recommend you to buy the dog bed with the best material to prevent puncture from happening.
What Other Necessities Does Your Dog Needs
Of course, you wouldn't need the Indoor Pool For Dogs as the float itself will probably take up most of the space already. If you are intending to use the stylish dog beds that floats on water in your swimming pool, then you might want to install the Pool Ramps for Large Dogs.