If you have been living in the cave, then you might not have heard of an astonishing news that had trigger a response from the Guinness World Records. No, I am not talking about your absence in the secular world. I am talking about the news that an Irish Wolfhound has broken the Guinness World Records for the dog with the longest dog tail. When our human baby grows too big, a common response will be parents asking one another what in the world is the baby consuming. Similarly, for the case of this particular Irish Wolfhounds, it does makes you wonder what it ate. Or rather, what is the best dog food for Irish Wolfhounds?
Best Dog Food For Irish Wolfhounds
It is a fact that the food that dogs consume have a direct impact on their body size. Do understand that dogs can be obese as well as be underweight too. We always believe that you should choose the best dog food for your dog, as each breed has its own needs. It is important not to overfeed your dog with food or supplements, or they jolly well end up with multiple problems when their old, or perhaps having a long tail…unless that's what you are looking for. But before we choose the best dog food for Irish wolfhounds, do you know your dog's requirements?
Top Picks For Irish Wolfhound Dog Food
Health Facts About Irish Wolfhounds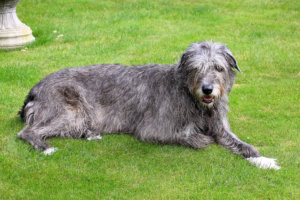 Irish Wolfhounds are regarded as the tallest dog breed in the world. They are considered to be extra large, and hence they need proper food to sustain their calorie needs. Overfeeding the Irish Wolfhounds will cause multiple problems when they are older, which is actually a common problem when large dogs age. One of the main reason is that they are being overfed during its adult phase. As such, they grow too big, and their bone structure isn't able to support the massive weight.
In terms of physical size, the Irish Wolfhounds can be as tall as 2 feet, and they weight hovers around 110 pounds to 190 pounds. They are considered to be an active breed, and as such, they require at least 40 minutes of exercise per day. The amount of food to feed your dog really depends on how active they are. For inactive dogs, expect to hit about 2,300 calories in a day. I know this may sound a lot, but you should really consider the size of the Irish Wolfhound! For active dogs, expect to hit at least 4,300 calories per day. I do know of some Irish Wolfhounds who eat way more than that, and that is because the dog itself is an ADHD dog who simply cannot sit still.
Common Health Issues That Irish Wolfhounds Have
While the Irish Wolfhounds can be a special breed to many, they are pretty susceptible to many health issues. This attribute is common amongst dogs of the larger breed. It is because most of the health problems are due to them being too large, and hence their bone structure might not be able to take their weight. Also, the poor Irish Wolfhounds can be overfed due to their owner's ignorance. This leads to multiple health problems too.
Some health issues include heart diseases, bloat (due to them eating too fast) as well having pneumonia. As mentioned earlier, the more common problems are the joint issues as well as arthritis. That is why we strongly urge you to purchase the orthopedic dog bed for the Irish Wolfhounds.
What To Look Out For When Choosing Dog Food For Irish Wolfhounds
Due to the sheer size of the Irish Wolfhound, you should choose commercial ready food that is high in protein. First of all, we mentioned commercial ready food because it is not easy to conjure up a diet that is super-rich in protein. Why not let the professionals do it? Also, we mentioned about the food needing to be high in protein because of the dietary needs as well as the activeness of the dog. Protein is needed to repair muscles and main growth in the dog. This is exactly what the Irish Wolfhound needs!
Typically, we will always recommend kibbles that contain fish or chicken as the first ingredient. As you may know, the first ingredient that is listed on the labels means that it is the main component of the dog food. Do try to use grain-free food, as most dogs are more receptive to grain free food than others.
Having said that, do not ever feed adult food to the Irish Wolfhound Pup. Irish Wolfhound pups are known to have a spurt in growth, and hence they need a proper food that is suitable for them. We are specifically looking at food that is catered to large breed puppies. This is because such food knows exactly the proportion of minerals that large breed puppies need. The Irish Wolfhound puppy requires food that is low in calcium. The calcium level is deliberately lowered so that your dog will not outgrow its size, which will cause multiple problems when they are older.
For the purpose of the Irish Wolfhound puppy, we recommend the Orijen Large Breed Puppy dog food as the top choice for your large breed puppy.