Irish Wolfhound is a dog breed that is pretty large in size. As per written in our previous post, the Irish Wolfhound can really rival the Great Dane in terms of size.  They do need to be fed with specific food types as you wouldn't want the dog to grow too big. Having said that, since the Irish Wolfhound is large in size, it can be pretty tricky when you wish to purchase a dog bed for Irish Wolfhound. While there are beds that are extra large in size, not all of them are suitable for the Irish Wolfhounds. Let us look into the dog beds that Irish Wolfhound deserves.
Your Irish Wolfhound Deserves A Dog Bed
Why is it that the dog deserves a bed? Of course they do! Dogs are the best companion that anyone can have, and this is especially the case for the Irish Wolfhound. They are loyal, intelligent, and it is relatively easy to maintain them. While they may sound like a hunting dog, they are surprisingly not a barking dog. While they might not bark, their size is a natural deterrent against intruders. This docile creature will fare well in a fenced area as it allows them to have the avenue to run. Should you need a fenced yard, you can consider using the wireless dog fence.
Since they are such lovely animals, they certainly do deserve a comfortable bed that they can rest in after a long day or after physical exertions. Given its large size, they might have problems with their bone structure when they are older. So, the bed that we purchase for the Irish Wolfhound can be an orthopedic dog bed. Do note that the Irish Wolfhound does not have the tendency to drool. This is good, as we do not need to specifically choose a bed that is waterproof, though it is a good feature to have.
Kuranda Almond PVC Chewproof Dog Bed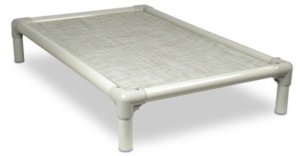 The Kuranda Almond PVC Chewproof Dog Bed is an elevated dog bed that is awesome in keeping your Irish Wolfhound cool during Summer. While the dog is known to be resistant to the cold, they are not that resistant against the hotter days of the year. As such, by having an elevated bed that is able to keep the dog cool, your Irish Wolfhound will have a better time sleeping through the weather.
Another quality that contributes to the bed's ability to keep the dog cool is due to the material too. The Vinyl weave is completely waterproof, and since its weave, it allows air to pass through the fabric easily. This allows the natural convection process to keep the dog cool at all times. Together with the aluminum bed frame, the Irish Wolfhound will be able to enjoy resting or sleeping on this bed.
Just in case your Irish Wolfhound is a chewer, you might want to know that this orthopedic bed for dogs is resistant to chews. In fact, it is stated to be able to resist up to 99% of chews. This is attributed to the rounded corners as well as the fabric, which is tucked into the frame itself. All of these discourages your dog to bite through it.
We highly recommend this highly portable dog bed if you intend to bring your Irish Wolfhound out to play often during Summer. It weighs at just below 11 pounds, and the dimensions of the fabric area is at 41′ x 24′.
Pros: Keep dogs cool during summer. Portable. Chew resistant.
Cons: Not fluffy
Our Rating:
(4.9 / 5)
---
OxGord Orthopedic Pet Bed Foam-Mattress for Dog
Should your Irish Wolfhound be suffering from age related problems, then the OxGord Orthopedic Pet Bed Foam-Mattress for Dog will be a natural choice for you. The mechanics of this bed is specifically designed to cater to large dogs who are suffering from bone related ailments.
Granted, there are actually other orthopedic dog beds that is available on Amazon. However, it terms of affordability and functionality, the OxGord orthopedic bed comes in tops. Just take a look at the outer material. Made with the ultra soft fleece material, your dog will feel extremely comfortable in this. This is on top of the foam that is present in the bed itself. The foam is able to alleviate your dog's problem. This is due to the ability of the foam to distribute the weight evenly across the bed, hence reducing pressure on the affected areas. While the foam is not memory foam, it does work like one.
This portable dog bed for Irish Wolfhounds weigh 11 pounds and the dimensions is at 44″ x 35″ x 3″. If you are on a budget, then this bed might be best suited for you and your Irish Wolfhound.
Pros: Portable. Very affordable. Reduce pressure.
Cons: Not cooling enough.
Our Rating:
(4.8 / 5)
---
Furhaven Orthopedic Mattress Pet Bed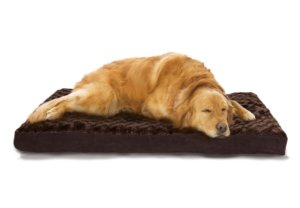 We came across another dog bed that is value for money too. Introducing the awesome Furhaven Orthopedic Mattress Pet Bed. This is currently the top seller for dog beds on Amazon.
We decided to conduct the Furhaven Orthopedic Mattress bed review due to the picture on the left. Just look at how comfortable the dog is. How can any dog possibly be sleeping blissfully as this? My dogs certainly do not. Their sleeping posture is truly unglamorous that is totally not fitting for posting online.
Just look at the material itself. The base of this bed is made with polycanvas, which is totally resistant to water. This, of course, is excellent in preventing water from seeping into this affordable dog bed. The top of the bed is made with an extra soft plush sleep surface. While this provides extra comfort to your dog, it might not be able to keep your Irish Wolfhound consistently cool. But this shouldn't be a problem if you keep the bed indoors.
In alleviating your Irish Wolfhounds pain, there is the foam that is present in the bed itself. The 4 inch foam resembles an egg crate, and the design is specially incorporated as it is able to reduce the pain in the joints of your dog. This is also achieved by spreading the dog's weight evenly across the entire bed itself.If your dog is suffering from arthritis, then this affordable bed is totally meant for them.
When it comes to washing the bed, you will find it extremely easy to clean it. The cover is completely machine washable. As for the foam, you can hand wash it with mild soap. Hang them to dry, and it will be usable again in no time.
This Irish Wolfhound bed measures at 44″ x 35″ x 4″ while weighing at less than 4 pounds! How awesome is this! In terms of affordability and functionality, this dog bed might simply come out tops in all categories.
Pros: Portable. Very affordable. Reduce pressure. Extremely comfortable. Easy to clean.
Cons: Not cooling enough.
Our Rating:
(5 / 5) Editor's Choice