If you have a working dog like the Rottweiler, Boxer, Siberian Husky or even the Doberman Pinscher, you might be figuring out places at which your working dog can rest in. While these dogs are used to living in the open, it will be good for us to purchase dog crates for these working dogs. It is a way for us to pamper our dogs, no? In this sense, let us look at some of the Best Working Dog Crates Review in this article.
Best Working Dog Crates Review
We have actually done a Top 3 Dog House For Rottweiler Reviews as well as the Heated Dog House For Large Dogs review. While these dog houses are good for your working dogs, sometimes we just want to purchase the functional and solid dog crates. Before we go on, the Best Working Dog Crates that we have chosen to review have to be able to stand up to the working dog's strength. Hence, we are looking out for working dog crates that are solid and not flimsy ones.
Impact Case Collapsible Dog Crate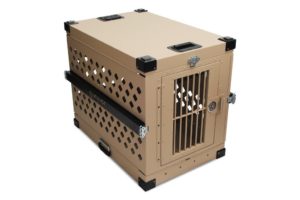 If you are looking into the Best Working Dog Crates, then you can simply purchase the Impact Case Collapsible Dog Crate. Like what the name suggest, it is completely collapsible, hence it also functions as a portable working dog crate too.
First of all, in terms of materials, it is made of high quality aluminum with a powder coated finish. All of these means that this Best Working Dog Crate is extremely durable yet at the same time light in weight. This perfect marriage between both qualities is hardly seen in most other Working Dog Crates. In addition, the welded rivet construction means that your working dog will be unable to break and escape from this working dog crate.
In terms of ventilation, it has many door openings as well as vent holes. This allows your dog to have a good positive airflow into the heavy duty dog crate. Also, the door is a marine-grade slam latch. This really prevents your dog from escaping the dog crate!
One of the reasons why it is able to withstand impact is due to the composite corners. The composite corners allows a higher level of impact protection that is not commonly seen in many other dog crates. Indeed, many travelers love to purchase this dog crate, as there are airline rails in this dog crate itself. In fact, this dog crate is IATA compliant, hence you can use this on the airplane too!
If you want to read a complete review, you can find it here.
Pros: Extra large dog crate. Impact resistant. Extremely durable. Can be stacked. Functions as an Airline carrier too. Extremely portable.
Cons: Can be pricey.
Our Rating:
(4.9 / 5)
Lucky Dog Uptown Welded Wire Kennel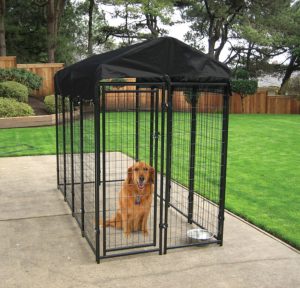 This Lucky Dog Uptown Welded Wire Kennel is widely used by owners of working dogs too. In fact, I do know of a couple of friends who use this dog cage for their German Shepherds.
On first glance, it might appear cumbersome to install and set up the entire wire kennel. However, it is really not as tough as it seems. I took the liberty of getting my friend to dismantle and assemble the Best Working Dog Crate, and I am pleasantly surprise to see how he does it with ease.
First of all, when you purchase this awesome outdoor dog pen, it comes with pre-assembled modular panels. The modular panels can be assembled quickly. Just think along the lines of Lego bricks. It is really that simple. You do not need any tools at all. However, we do recommend you to anchor the wire kennel to the ground. This ensures that your working dog will not barge its way out of the kennel.
In terms of material, it is made of the heavy duty steel. The steel are welded together to form up the entire structure. Some other steel cages have sharp edges that can harm our dogs. For this particular model, there is no sharp edges at all. This is because the steel bars and wire mesh are welded together before the coating is being done. This engineering process helps to eliminate the sharp edges, hence your dog will be protected against hurting themselves. In addition to that, the combination of materials ensures that the structure is rust and corrosion free.
This crate is actually pretty easy for you to clean. Also, there is the heavy duty waterproof cover and steel roof frame that fits the cage. This roof protects your dog from the elements. You must then be wondering about the floor. For protection on the ground, you can purchase the Kennel Deck
 for your dog too. This kennel deck helps to keep your dog off the ground, hence effectively keeping them clean and dry.
Pros: Good for large dog. Durable and resistant to the elements.
Cons: Not portable.
Our Rating:
(4.8 / 5)
Petmate Sky Kennel for Pets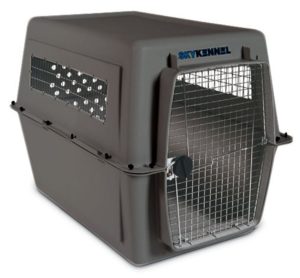 This Petmate Sky Kennel for Pets is another highly portable crate that certainly qualifies as one of the Best Working Dog Crates on Amazon.
In terms of material, it is made of plastic. Before you judge, this plastic is indeed a heavy duty, high plastic. Made completely in the USA, this material is actually one of the toughest material available for working dog crates. It is reinforced by the extra strong steel wire at the front of the crate itself. All of the materials are non-corrosive, and they are completely safe for your dog.
In terms of ventilation, it does allow air to flow freely into it via the front door as well as the mesh windows. When you purchase this Best Working Dog Crates, it does come with the "Live Animal" labels, identification stickers, an absorbent pad and food and water cups. This Best Working Dog Crates weighs 44 pounds, and the dimensions fits requirements by most airlines. Hence, you can use this as an airline dog crate too.
Pros: Very hardy materials. Resistant to weather. Safe materials. High in durability and strength.
Cons: Not very aesthetically pleasing.
Our Rating:
(4.8 / 5)