Many people have misconceptions about crates. They would deem that having crates is like imprisoning the dog. To a large extent, it might be the case, but definitely for a reason. Dog crates are necessary for training purposes. Also, it acts as a safe haven for them as they feel secure in it. This is really proven by observation. Many a time when I chased my dog, she will quickly run into her crate and plonk herself down on the steel base. No matter how much I cajoled her, she will refuse to leave it. In fact, I use the crate as a tool to potty train her, and it is very proven to be very effective.
It all boils down to the type of training that she has undergone by the owner. Much like a child, if the dog is taught in a positive manner, then the crate could become its best friend when the owner isn't around. On the flip side, if the owner uses the crate to reinforce negative emotions, then the animal would develop resentment towards it.
Crates could also be used as a "naughty corner" for negative behavior. Some vets recommend that the dogs stay locked up in the crate after a surgery to prevent the dog from aggravating its conditions.
Best Dog Crate for Great Danes
There are various factors involving the purchase of the proper dog crate for Great Danes. We will provide some tips on choosing the dog crates at the end of the article.
Pro Select Empire Cage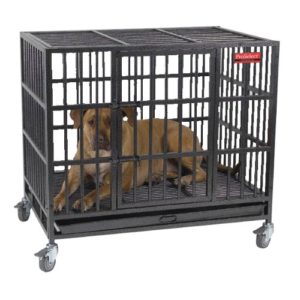 Pro Select Empire Cage is actually one of the strongest, most durable and resilient dog cages that you can find. This makes it the Best dog crate for Great Danes.
This cage is designed with one of the strongest material in the tubing. Made of the extra strong steel tubing, your Great Dane will never be able to escape from this. Also, there is the stout dual door that is being incorporated into the design. Together with the heavy-duty welded system, you can ensure that your Great Dane will always be secure in this dog crate.
Even if your great dane is a chewer, they will find it extremely tough to chew onto this. Also, in terms of aesthetics, nothing comes closer to this. This is due to the hammertone finish that is incorporated into the design. The perfect union between material and finishing ensures that this best dog crate for great dane is resistant to corrosion, rust as well as being totally weather proof.
We do understand that the cage can be heavy. Together with your great dane's weight, it is tricky for anyone to maneuver crates around. However, this Pro Select Empire Cage have removable locking casters that allows you to move the dog crate easily. This makes it one of the best Dog Crates with wheels for dogs.We have done a comprehensive review about this dog cage, and it can be found here.
Pros: Heavy duty with wheels. Chew proof. Good looking crate.
Cons: Can be heavy.
Our Rating:
(4.9 / 5)
---
MidWest 1548 iCrate Single-Door Pet Crate 48-By-30-By-33-Inch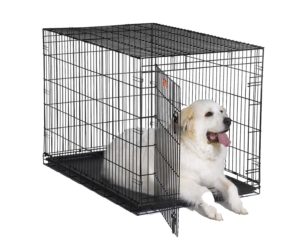 Midwest Single-Door Pet crate is an ideal dog crate for Great Danes. It has a single door and can be folded for portability. The plastic tray at the bottom of the crate can be removed easily for cleaning purposes. It is also very popular with owners of strong dogs as they can withstand the usual knocks and bumps that their dog has against the crate.
As a complete package, consider getting the MidWest Quiet Time Pet Bed. It can be laid on the floor of the crate as an added comfort for your Great Danes. It can retain heat during winter, and it can also keep your dog cool during summer.
Pros: Portable. Durable against knocks.
Cons: Single door entry.
Our Rating:
(4.8 / 5)
---
MidWest iCrate Double-Door Folding Metal Dog Crate, 42 Inches by 28 Inches by 30 Inches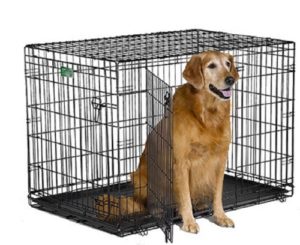 Midwest Double-Door Pet crate is very similar to the Single-Door cousin. The only difference is that it has two doors instead of the conventional one. The two doors are for easy access to the dog either through the usual front door, or from the side with the second door. This double door also gives you the option of fitting the crates into tight corners as you have two different exit points to play with.
As per the single-door cousin, consider getting the MidWest Quiet Time Pet Bed too.
The benefits of getting a dog crate for Great Danes can be seen in the following video by MidWest
Hence, given the popularity and functionality of this crate, look for no other brands except for MidWest. You just have to consider if you would prefer the single door or double door version of the crates.
Pros: Portable. Dual Doors.
Cons: None.
Our Rating:
(4.8 / 5)
---
Extra Large Dog Breed (Great Dane) Heavy Duty Metal Dog Crate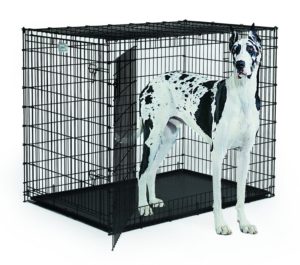 This Extra Large Dog Breed (Great Dane) Heavy Duty Metal Dog Crate
 is a recent top seller on Amazon. One of the reasons why it is a top seller is that it is specifically designed for large dog breeds like Great Danes!
First of all, let us look at the material. It is made from heavy duty steel. This ensures that your Great Dane will always be kept secured in this Dog Crate. This also means that your Great Dane will be unable to escape from this!
Other than that, there is the double door configuration. This really allows you to have easy access to your dog. Also, in order to keep the entire structure as sturdy as possible, the crate have the four drop pin that surrounds the crate. This helps to keep the crate integrity intact. In addition to that, the doors have the heavy duty slide-bolt that latches the door for the best protection ever!
When you purchase this Best Dog Crate For Great Danes, it comes with the durable leak-proof pan. Also, there are 4 rubber feet at the bottom of the crate, which is good as it can prevent your floor from being scratched.
Pros: Heavy duty crate. Very secure.
Cons: Very big. Might need dividers if purchasing for Great Dane puppy.
Our Rating:
(4.9 / 5)
---
If you are looking into purchasing Dog food for your great dane puppy, you can find out more about them here. If you are looking into purchasing dog food for your adult great dane, we have some recommendations over here.
Tips on choosing a dog crate for Great Danes
To choose a proper dog crate for Great Danes, we would need to consider her size and the material of the crate.
The most common type of crates is made of wire, plastic or fabric. We recommend using wire crates as it is the easiest to wash. It can be foldable for easy storage too, and it is economically cheaper than the rest.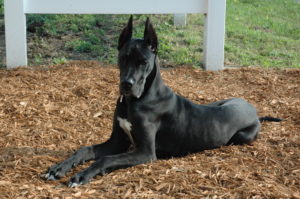 Great Danes are large sized dogs that can grow up to 34 inches in height. Some owners might deliberately choose a bigger crate so that the extra space can be used for sanitary purposes. Although plastic crates can be sturdier than wire crates, there is, in fact, many wire crates out in the market that can be as sturdy as their plastic cousins. If you fear the dog's privacy, you can always cover it with a cloth!